Today Tasty Thursday is all about BBQ and since I have been doing Weight Watchers, I really have not tried a lot of barbecue recipes, not that I can't have them, lol. Some of you might not know this, but I made a decision when I started Weight Watchers that I would only share recipes on my blogs that fit into my healthier lifestyle. I believed this would help me stay on track, and it has! When I was researching a recipe for this, I was shocked to read that according to
Hungry Girl
, "The average BBQ meal contains an astonishing 1,300 to 1,800 calories. That's more calories than some of us need in an entire day. Eeek!" I would love to find a healthy bbq recipe because I love it, but since Tasty Thursday is all about tried and true recipes, I have decided to share a recipe that goes well with bbq! I have made this and really love it, I made it without the almonds. I will be making it for my many summer events!
Oriental Cole Slaw
Serving Size : 12 (3/4 cup each) @ 3 Weight Watchers POINTS® each
(My points were 2 without the almonds)
1 package beef flavored Ramen noodles (I used a 35% less sodium packet)
1 large package coleslaw mix
1/4 cup sunflower seeds
1 bunch green onions -- thinly sliced
1/2 cup sliced almonds (I did not add these, taste great without)
Break noodles into pieces and mix with coleslaw, sunflower seeds, onions, and almonds in a large bowl. Combine ingredients for dressing in a cruet. Pour over vegetable mixture.
Dressing
2 T oil
½ c water
½ flavor packet from noodles
2 T cider vinegar
¼ c sugar or Splenda (I used Splenda)
For more bbq recipes go to
The Pumkin Patch
.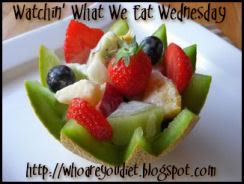 Please come back and visit me for my new meme Watchin' What We Eat Wednesday next week as we share healthy recipes. The theme next week is Fruits. To see yesterday's recipes from Watchin' What We Eat go
here
.